PHYLLIS HARRISON-ROSS, MENTAL HEALTH PIONEER
Dr. Phyllis Harrison-Ross, a pioneering black pediatrician, psychiatrist, prison monitor and mental health administrator, died on Jan. 16 in Manhattan. She was 80.
The cause was lung cancer, Elinor Tatum, her goddaughter and the publisher of The New York Amsterdam News, said.
Dr. Harrison-Ross was a ubiquitous presence in the mental health field in New York and nationally for more than 35 years. She was an early leader in designing rehabilitation and therapy for children with a combination of severe developmental, emotional and physical disabilities.
She was also at the forefront of promoting teleconferencing to bridge gaps between doctors and patients, and what is known as televisiting, to link inmates in prisons in rural parts of upstate New York to their families in New York City and other urban areas.
From 1973 to 1999, Dr. Harrison-Ross directed the Community Mental Health Center at Metropolitan Hospital in East Harlem and was the hospital's chief of psychiatry.
Dr. Harrison-Ross served on President Richard M. Nixon's National Advisory Council for Drug Abuse Prevention and the New York State Commission of Correction and was chairwoman of the commission's Medical Review Board. She recently said that since 1976, she had reviewed the deaths of thousands of people in state and local custody.
After the attack on the World Trade Center in 2001 and Hurricane Katrina in 2005, she mustered her colleagues to provide interfaith disaster services and became the volunteer president of All Healers Mental Health Alliance, which seeks to organize long-term responses to mental health needs that arise from natural and man-made disasters.
Dr. Harrison-Ross was also an emeritus professor of psychiatry and behavioral health services at the New York Medical College. She wrote numerous articles and two books: "Getting It Together," a textbook for junior and senior high school students, and, with Barbara Wyden, "The Black Child: A Parents' Guide." Of "The Black Child," The New York Times Book Review said, "Everyone can learn something from this book."
Phyllis Anne Harrison was born on Aug. 14, 1936, in Detroit to Harold Jerome Harrison, a teacher who became deputy superintendent of the Detroit public school system, and the former Edna Smith, a social worker and professor at Wayne State University.
She was accepted to Albion College in Michigan when she was 15 and graduated with a bachelor of science degree in 1956. Three years later, she was the only black woman in the graduating class of Wayne State University's College of Medicine.
Her husband, Edgar Lee Ross, died in 1996. No immediate family members survive.
Last July, she was featured in an article in The Times about issues facing older people when they move to smaller living quarters. She had lived in the same large apartment on the Upper West Side of Manhattan for 48 years.
Dr. Harrison-Ross trained as a pediatrician and as a psychiatrist, interning at Bronx Municipal Hospital and Albert Einstein College of Medicine. There she helped develop therapeutic programs for multiply handicapped preschool children at what is now known as the Rose F. Kennedy University Center for Excellence in Developmental Disabilities. New York officials replicated the programs statewide.
In 2004, she received the American Psychiatric Association's Solomon Carter Fuller Award for African-American Pioneers.
*********************************************
LENNART NILSSON, PHOTOGRAPHER WHO REVEALED UNBORN LIFE
Lennart Nilsson, a Swedish photographer who unveiled unborn life in electrifying images that were splashed across Life magazine, filled hours of acclaimed documentary films and decades later still brim with scientific, artistic and moral significance, died Jan. 28 at a nursing home in Stockholm. He was 94.His stepdaughter, Anne Fjellstrom, confirmed his death but did not cite a specific cause.

Mr. Nilsson was celebrated around the globe as a photographer of nearly singular genius. Drawing upon a primal sense of curiosity, he harnessed cutting-edge technology to capture on film such drama as human conception and the infection of a cell by the AIDS virus.

He was best known for his images of embryos and fetuses, which embryos become about eight weeks after a sperm fertilizes an egg. Life magazine sparked a sensation when it featured his work in the 1965 story "Drama of Life Before Birth." Eight million copies of the edition — with a cover image of an 18-week-old fetus cocooned in the amniotic sac, immediately recognizable as an incipient person — were sold.
Inside the magazine were portraits of the most ethereal quality, depicting beings never before seen by most eyes, and yet intimately familiar. At 61/2 weeks of gestation, an embryo displayed clearly visible hands. By the eight-week mark, a viewer gazing upon Mr. Nilsson's photography could perform that cherished rite of delivery rooms and count 10 tiny toes. At 18 weeks, a fetus was captured sucking its thumb.
Mr. Nilsson used custom­-designed equipment described by Life as "a specially built super wide-angle lens and a tiny flash beam at the end of a surgical scope." But his photographs elicited amazement not at human technological achievement, but rather at the very fact — some said miracle — of human existence.
"This is like the first look at the back side of the moon," a Swedish gynecologist remarked upon seeing the images, according to Life.
Mr. Nilsson's embryonic and in utero photography later appeared in "A Child Is Born," a best-selling volume translated into an array of languages and reprinted in numerous editions over the years. On television, it was featured in documentaries including "The Miracle of Life" (1983) and "Odyssey of Life" (1996), both of which aired on the PBS program "NOVA," garnering Emmy and Peabody awards.
In the 1970s, his photos were sent into space aboard the Voyager space probes — a calling card from mankind for any being that might happen upon it.
On Earth, Mr. Nilsson's images held profound meaning for antiabortion advocates, who pointed to the photography to demonstrate how quickly cells combine and divide to form recognizable human life. Mr. Nilsson, whose subjects included dead embryos as well as live ones, did not venture into discussions of when life begins.
"If you are religious, you may believe that life starts 24 hours after fertilization," he remarked. "Some scientists think it's when the heart starts beating, 16 to 18 days after fertilization. It depends on yourself. I'm just a journalist telling you things. It's my mission in life."
He once told the Sunday Times of London that it was his "dream" to make the "invisible visible." In that pursuit, he photographed blood vessels, the interior of the heart and ventricles of the brain.
"Hairs of the head are seen as a grove of trees amid mossy stones; glands of the stomach as volcanic terrain; mucosal folds within the Fallopian tube as beautiful silken veils; calcium crystals of the inner ear . . . as monumental boulders, like some moonlit primitive Stonehenge," Irving Geis, a biological artist, wrote in a New York Times book review of "Behold Man: A Photographic Journey of Discovery Inside the Body," a collaboration by Mr. Nilsson and Jan Lindberg.
Lars Olof Lennart Nilsson was born in Strangnas, Sweden, on Aug. 24, 1922. He was 11 when he received his first camera. He once told the publication Technology Review that he "wanted to get close to everything, to see the miracle of life."
"I clearly recall the first pictures I took of laburnum," his website quoted him as saying, referring to the tree with its distinctive hanging chains of golden flowers. "Even then, I remember thinking it would be exciting to see what laburnum looked like inside."
At the start of his career, Mr. Nilsson worked as a freelance photographer, documenting a midwife in the Swedish highlands and Norwegian hunters on the trail of polar bears. He photographed celebrities, including the actress Ingrid Bergman, the director Ingmar Bergman and the painter Henri Matisse. But Mr. Nilsson appeared equally enamored of ants and underwater creatures, also among his early subjects.
His marriage to Birgit Svensson ended in divorce. Their son, Kjell Nilsson, died in 2013.
In 1989, he married Catharina Tjornedal. Besides his wife, survivors include two stepchildren, Anne Fjellstrom and Thomas Fjellstrom, all of Stockholm; a sister; and three grandchildren.
There seemed to be no end to Mr. Nilsson's fascination with the world and its wonders. He photographed the vocal cords of the great Swedish operatic soprano Birgit Nilsson (not a relative). He buried a camera inside the petals of a flower to capture the alighting of a bee and installed a lens inside a man's mouth to capture a kiss.
In an incident memorable to many of his countrymen, a Swedish television station once aired Mr. Nilsson's all-too-revealing close-ups of human teeth.
"When the TV news showed pictures of what we have on our teeth — enlarged to 100,000 times the actual size — the Swedish people choked on their evening coffee," Per Lindstrom, a professor of photography, recalled in a tribute on Mr. Nilsson's 90th birthday. "All the toothbrushes in the stores sold out the next day."
***************************************************
EMMANUELLE RIVA, FRENCH ICON WHO STARRED IN 'HIROSHIMA, MON AMOUR'
Star of Hiroshima mon amour and Thérèse Desqueyroux, who won late acclaim and an Oscar nomination for her role in Michael Haneke's 2012 film Amour, has died.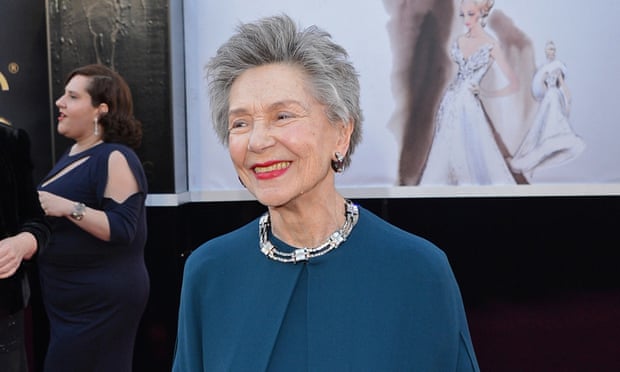 Emmaunelle Riva, the French actor whose 60 year career came to a triumphant climax with her Oscar nomination for Michael Haneke's Amour, has died. Riva, who had cancer, died on Friday night in Paris, but was working until last summer, when she made a film, Alma, in Iceland and performed at the Villa Medici in Rome.
Riva was 26 when she moved from rural France to Paris with hopes of becoming an actor, achieving her goal soon afterwards with the leading role in Hiroshima mon amour (1959). The stark story of a failing romance between a French actor and a Japanese architect, it was directed by new wave pioneer Alain Resnais and scripted by Marguerite Duras. Eric Rohmer called it "the most important film since the war, the first modern film of sound cinema".
Riva continued to work with France's key young directors, including Gillo Pontecorvo on Kapò (1959), Jean-Pierre Melville on Léon Morin, Priest (1961) and Georges Franju on Thérèse Desqueyroux, for which she won best actress at the 1962 Venice film festival.
Riva maintained a commitment to serious film and theatre throughout her career, later collaborating with Krzysztof Kieślowski on Three Colours: Blue (1993) and Julie Deply on Skylab (2011). But it was in 2012, at the age of 85, that Riva finally found international fame, as Anne, an octogenarian music teacher being cared for by her husband (Jean-Louis Trintignant) after a series of strokes.
The film took the Palme d'Or in Cannes and was acclaimed as a modern masterpiece.
Speaking to the Guardian, Riva described how she and the crew kept the atmosphere lighthearted on set, despite the film's deep bleakness.
So much laughter, so many funny things. I remember once, when I was playing dead, I had to stay quite still. But when the crew went to look at the monitor, they came back laughing. I said, 'What's so funny?' and they told me that my toes were wiggling. My toes! I didn't even know they could see them. So I had to do the whole scene again and concentrate very carefully. I think my feet have a will of their own.
Riva went on to win the best actress Bafta the following year, before travelling to the Oscars, which were held on her 86th birthday. She missed out on the best actress prize there to Jennifer Lawrence for Silver Linings Playbook, although the film did win the Academy Award for best foreign language film.
Famed in France for her discretion and reserve, Riva, who never married and had no children, kept her final illness private. But she did profess herself pleased by her late turn in the limelight.
"[Amour] is such a wonderful, marvellous, extraordinary gift," she said in 2012. "I cannot tell you how happy I am. Completely happy. The whole thing is like a fairytale."