The year 2016 has given the viewing public many various films to whet its movie-going appetite.
Up for possible nominations for the 89TH Academy Awards are films about a group of highly skilled mathematical genius women who happen to be Black–Black women who worked during the time of Jane Crow segregation at NASA and through it all, managed to help land a man on the Moon with Apollo 11;  a working class Black sanitation worker who was once a champion in the disbanded Negro Baseball League and the family members who live in his world; a young Polynesian girl who defies all odds to bring help to her people and take them to a new land; a divorced husband who writes a novel that may or not be a veiled threat against his former wife; a film about two men who have been in denial of their homosexuality and how it affects their lives through the years; and a sci-fi film about beings who come to Earth who may or may not have a sinister motive for arriving to our planet.
In 2016 before the Oscars telecasted, on one side, there was the "Why don't you White Oscar voters nominate films by and starring Blacks!"; on the other side, there were the "Well, ya'll just don't make any quality films then we just might nominate them!"
This year is a whole lot different where films are concerned.
Contenders on the list for everyone's dollars are Manchester By the Sea, Moonlight, Fences, Hidden Figures,  La La Land, Arrival, Moana, Nocturnal Animals, to name just a few.
Photo of Manchester by the Sea still movie poster.
Moonlight poster.
Photo still from Moonlight.
Poster of Fences.
Photo still from Fences.
Photo still of Hidden Figures from 20TH Century Fox Studios.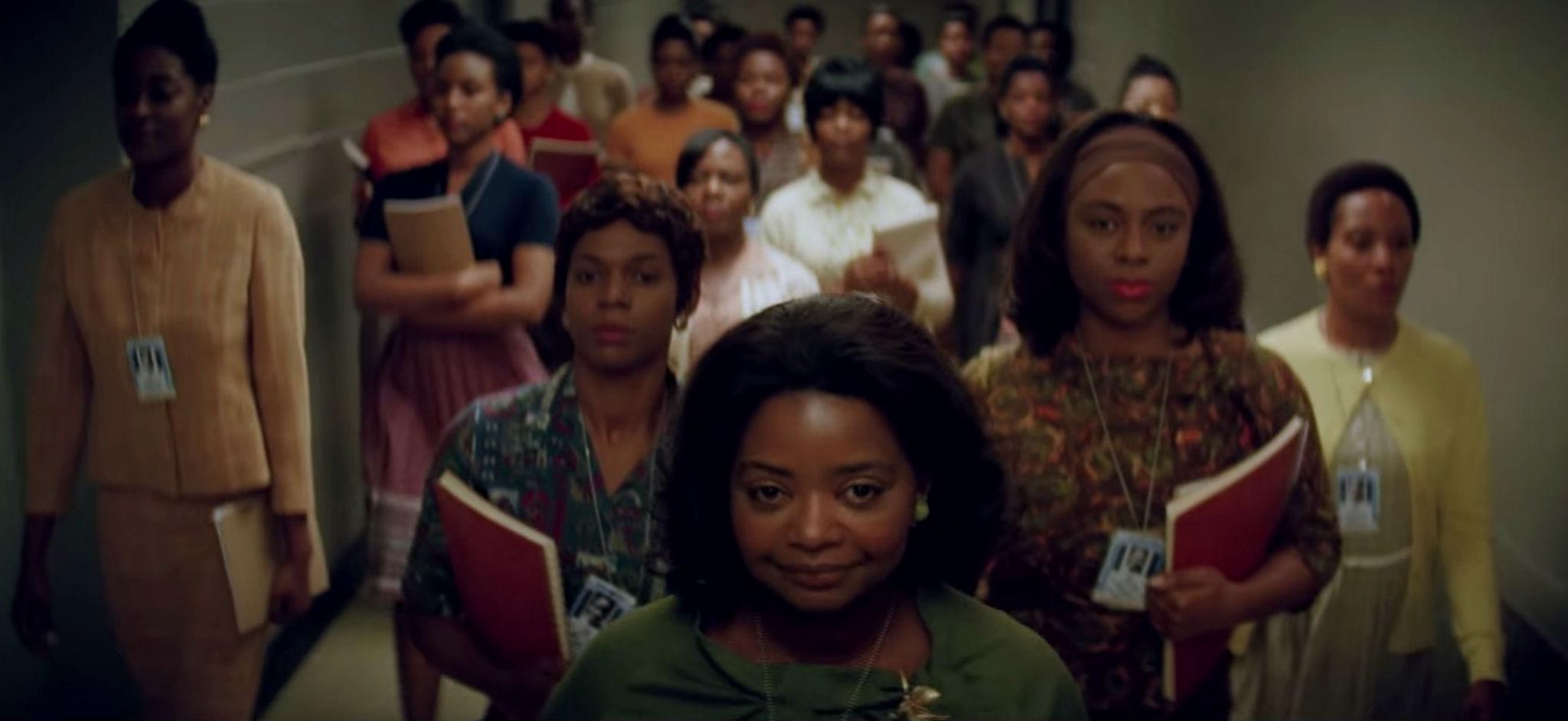 Photo still from Hidden Figures.
Poster of La La Land.
Arrival film poster.
Moana film poster.
Nocturnal Animals film poster.
Many of the films I have not seen yet, some I have seen: Hidden Figures, Fences, Moana, Moonlight, Arrival, and Nocturnal Animals.
Wow.
I have not seen that many films in a 6 month and less time period in decades.
Just shows that once in a Harvest Moon, Hollyweird can actually put out some films that can earn my hard earned dollar.
Most notable on this list are many films that address issues that affect the Black community as well as point out those parts of everyone's life that revolve on a universal note.
Films which bring to light hitherto unknown and unheralded eras in this nation's history as well as the usual Hollywood fare.
At the top of the list are films which some might consider so-called black films:  Hidden Figures, Moonlight, and Fences.
Hidden Figures tells of the story of the wonderful Black women mathematicians who worked at NASA in the early days of America's space race and exploration in helping to get astronauts into space, a man on the Moon, and to put the United States ahead in the era of spaceflight. I originally wrote on the West Computer Black women here.
Fences, starring Viola Davis and starring and directed by Oscar winner Denzel Washington, is based on the late and great American playwright August Wilson's Tony-winning play. The film tells of the life of Troy Maxson and his family, and it took years to bring this play to the silver screen because Mr. Wilson stipulated that if his play Fences was ever given the Hollywood treatment, it must be directed by a Black director.
Then there is Moonlight, a story of two young Black men groping their way through youth, trials and tribulations, adulthood, and coming to terms with their homosexuality.
Unlike last year's #Oscar So White, when there were no strong contenders nominated that involved Black actors, directors, and producers, 2017 has many great films that will surely test the Academy of Motion Picture Arts and Sciences hand.
Will Fences take home a sweep of Oscars?
Will Hidden Figures upset all the other nominees?
Will Moonlight be the dark horse in what seems to be an #Oscar So Black year?
Will any of these films even get nominated for any Oscars?
It remains to be seen if this year of 2017 will be just another soooooooo very, very white Oscar night.
Oscar. Trademark of AMPAS.