E.R. BRAITHWAITE, AUTHOR OF 'TO SIR WITH LOVE'
E.R. Braithwaite, author whose autobiographical novel dramatising his time as a black teacher in east London in the 50s had a career that took in social work and diplomacy as well as writing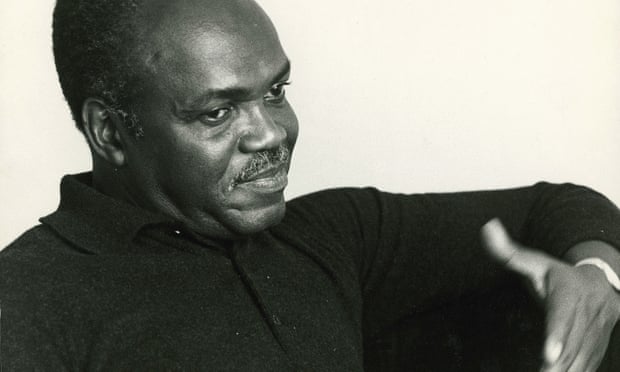 ER Braithwaite, the Guyanese author of To Sir, With Love, has died at his home in Maryland at the age of 104.
Born in Guyana on 27 June 1912, Eustace Edward Ricardo Braithwaite was the child of privileged parents, both graduates of Oxford University. His father was a diamond miner while his mother raised the family. During the second world war, he joined the Royal Air Force to fight as a pilot before going on to Cambridge to read physics. He later said that he experienced no racial prejudice within the RAF.
On graduating, he found himself barred from work as an engineer because of racism. Unable to find an alternative, he took a job as a teacher at St George-in-the-East school in London's East End, which was recovering from the battering it had taken during the war. This experience formed the basis of his autobiographical novel To Sir With Love, his 1959 book later adapted into a film of the same name starring Sidney Poitier.
At the school, renamed Greenslade School in the film, the well-educated middle class graduate was confronted with casual racism, violence and antisocial behaviour by a group of disadvantaged pupils. Hardest to bear was the self-hatred the racism brought out in him and the low expectations of colleagues for their charges.
Gritty and unsentimental, the book shows Braithwaite gradually turning his class around through a mix of affection and respect. It also revealed his love affair with a fellow teacher – controversial at the time because the other teacher was white. When the film adaptation was made in 1967, Braithwaite criticised it, saying the love affair had been downplayed.
The book also contrasted his experience of race relations in Britain with those in the US, where he studied before joining the RAF. He wrote: "The rest of the world in general and Britain in particular are prone to point an angrily critical finger at American intolerance, forgetting that in its short history as a nation it has granted to its Negro citizens more opportunities for advancement and betterment, per capita, than any other nation in the world with an indigent Negro population."
To Sir, With Love has been hailed as a seminal work for immigrants from the colonies to postwar Britain. In an introduction, Caryl Phillips wrote: "The author is keen for us to understand that the Ricky Braithwaites of this world cannot, by themselves, uproot prejudice, but they can point to its existence. And this, after all, is the beginning of change; one must first identity the location of the problem before one can set about addressing it."
After teaching, Braithwaite moved to social work, finding foster homes for children of colour. This formed the basis of for his 1962 book Paid Servant: A Report About Welfare Work in London. He went on to write a further nine books, a mix of novels, short-story collections and memoir.
A visit to apartheid South Africa in 1973, following the country lifting its ban on To Sir, With Love, resulted in Honorary White (1975). The title was a reference to his visa status, which granted significantly more privileges than enjoyed by the native black population. The book had a mixed reception: one critic described it as too soft on the apartheid regime, too hard on the oppressed black population and too focused on the author.
After his social work, he moved to Paris to work for the World Veterans Association, before transferring to Unesco and a diplomatic career that took in posts as permanent representative of Guyana to the UN and Guyana's ambassador to Venezuela.
From diplomacy, he moved into academia, teaching at the universities of New York, Florida State and Howard in Washington, where he also served as writer-in-residence.
When asked in 2013 whether he had stayed in touch with students from the London school, he admitted he had not, telling the Coffee Table blog: "I don't know if I changed any lives or not, but something did happen between them and me, which was quite gratifying."
Braithwaite's companion, Genevieve Ast, confirmed his death on Tuesday. He died a day after being admitted to a medical centre in Rockville, Maryland.
******************************************************
ALAN THICK, REASSURING FATHER ON 'GROWING PAINS'
Alan Thicke, the Canadian actor, singer and songwriter best remembered for his portrayal of the ultimate suburban middlebrow dispenser of parental advice on the sitcom "Growing Pains," died on Tuesday in Burbank, Calif. He was 69.
Mr. Thicke was playing hockey with his 19-year-old son, Carter, when he had a heart attack, his ex-wife Gloria Loring said. She added, "He died the way any good Canadian should — playing hockey with his son."
Mr. Thicke projected a genial warmth across all his television work, most memorably on "Growing Pains," which ran from 1985 to 1992 on ABC. His character, Dr. Jason Seaver, a psychiatrist, was a classic 1980s formulation of the reassuring father who solved everyone's problems with a warm homily by the end of each 30-minute episode. The cast also included Joanna Kerns as his wife and Kirk Cameron as his oldest child.
The role earned Mr. Thicke the nickname America's Dad. His character was ranked No. 37 on TV Guide's list of the "50 Greatest TV Dads of All Time."
Mr. Thicke's talents also included songwriting. He wrote the theme songs for numerous game shows, including "The Joker's Wild," "Celebrity Sweepstakes" and the original "Wheel of Fortune," and he wrote the themes for the sitcoms "Diff'rent Strokes" and "The Facts of Life" with Al Burton and Ms. Loring.
Now the world don't move to the beat of just one drum,
What might be right for you, may not be right for some.
A man is born, he's a man of means.
Then along come two, they got nothing but their jeans.
But they got
Diff'rent strokes.
His career also included stints as a talk-show host, both real and fictional. His syndicated late-night show "Thicke of the Night" was seen in the 1983-84 season, and he played the talk-show host Rich Ginger on the soap opera "The Bold and the Beautiful." He also played himself on several episodes of the sitcom "How I Met Your Mother."
He was a writer on the satirical talk show "Fernwood Tonight" (1977), a spinoff of "Mary Hartman, Mary Hartman" that starred Martin Mull and Fred Willard, and was nominated for a Primetime Emmy Award for his writing on a later version of the show, "America 2-Night."
He was also nominated for a Golden Globe Award in 1988 for best performance by an actor in a comedy or musical series for "Growing Pains," and for a Daytime Emmy in 1998 for his work as host of the game show "Pictionary."
Mr. Thicke self-deprecatingly called himself "the affordable Shatner," a reference to his appearances at public events that were said to have been turned down by his fellow Canadian actor William Shatner, of "Star Trek" fame. He was a host of the annual Disney Christmas Parade with Joan Lunden in the 1980s, and of the Miss Universe pageant and the Canadian Comedy Awards.
Mr. Thicke was born Alan Willis Jeffrey on March 1, 1947, in Kirkland Lake, Ontario.
"We started in northern Ontario in a small town where I didn't even see a television set until I was 7 years old," Mr. Thicke said at the unveiling of his star on Canada's Walk of Fame in 2013, the website ET Canada reported. "So when you take that moment and fast-forward to what I'm experiencing today with my family here and feeling embraced by my country — that's unique."
Mr. Thicke was the author of two books, "How to Raise Kids Who Won't Hate You" and "How Men Have Babies: The Pregnant Father's Survival Guide."
In addition to his son Carter, Mr. Thicke is survived by two other sons, Robin, the singer and songwriter, and Brennan; and his wife, Tanya Callau. Two previous marriages ended in divorce.
Hours before his death, Mr. Thicke commented on Twitter about "Fuller House," the Netflix follow-up to the television series "Full House," on which he had recently appeared as a guest star.
"Season 2 Fuller House looking good," he wrote. "I even like the ones I'm not in!"