Maryland Sheriff Resigns After Racist, Sexist, Anti-Semitic Remarks
The sheriff of one of the wealthiest counties in the United States resigned this week in the face of impeachment threats over a hostile work environment and his racist, sexist and anti-Semitic statements.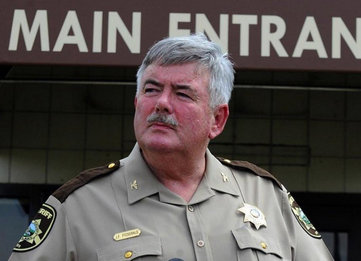 James F. Fitzgerald, who has been sheriff of Howard County, Md., since 2006, announced earlier this week he will step down on Saturday, but he has otherwise declined comment.
His resignation was announced shortly after Maryland Gov. Larry Hogan, a Republican, joined a chorus of other elected officials and civil rights leaders who condemned Fitzgerald, demanding his removal.
The county's Office of Human Rights issued a 48-page report last month after its staff investigated and concluded that Fitzgerald, a Democrat, had made remarks insulting the intelligence of black deputies, used racist gestures and often describing African-Americans as "niggers," The Washington Post reports.
Fitzgerald, who earned $91,000 a year supervising a staff of 69, also allegedly made derogatory, sexist comments about women, along with anti-Semitic comments, calling former county executive Ken Ulman, a fellow Democrat, "little Kenny Jew-boy," the Post reported.
Immediate after the report was issued last month, Fitzgerald called its findings "humbling, hurtful and disappointing," but he refused to step down.
Immediately, Howard County Executive Allan H. Kittleman, a Republican, contacted state legislators, asking them to pursue impeachment options. Maryland's constitution allows its General Assembly to impeach state elected officials, including county sheriffs who are agents of the state.
The human rights investigative report detailing the sheriff's conduct "shocked many in a community renowned for its inclusiveness and its 'Choose Civility' bumper stickers," the newspaper reported.
Howard County consistently ranks among the wealthiest counties in the nation. Its largest city, Columbia, Md., was founded in the 1960s as a planned community promoting racial tolerance, the Post reported.
The report led to protests demanding the sheriff's resignation. It was issued just days after Money magazine ranked Columbia as No. 1 in its "Best Place to Live 2016.