JOYCE CAROL THOMAS, CHILDREN'S AUTHOR WHO ACCENTED BLACK RURAL LIFE

Joyce Carol Thomas in 2004. (Mike Kepka/The San Francisco Chronicle)
By Matt Schudel
August 23, 2016
Joyce Carol Thomas, a National Book Award-winning author who drew on her own experiences in writing books for children and young adults that accented her rural African American heritage, died Aug. 13 at a hospital in Palo Alto, Calif. She was 78.The cause was complications from liver disease, which she developed as a result of a tainted blood transfusion years ago, said her sister, Flora Krasnovsky.After beginning her writing career as a poet and playwright, Ms. Thomas published her first novel for young readers, "Marked by Fire,"in 1982. Set in her home town of Ponca City, Okla., the book introduces a memorable and resilient character, Abyssinia Jackson, who appears in several subsequent books and becomes something of a mythic figure.

Ms. Thomas grew up working in the Oklahoma cotton fields, and as a child was burned on her leg and bore the scar for the rest of her life, her sister said. Abyssinia shares a similar background.

Born in a cotton field in the midst of a brush fire, she was scarred on her face and, according to a local healing woman, "marked for unbearable pain and unspeakable joy."
Abyssinia possesses a remarkable singing voice until she is rendered mute by a sexual assault by a church elder — a scene that mirrored a trauma experienced by one of Ms. Thomas's childhood friends. The novel then chronicles Abyssinia's struggle to regain her voice and her dignity.
"Miss Thomas writes with admirable simplicity and finds a marvelous fairy tale quality in everyday happenings," playwright Alice Childress wrote in the New York Times in 1982. "Her people move through troubled times but never fail to celebrate sweeter days with church suppers and the joyous sound of gospel singers."
"Marked by Fire"was quickly recognized as a modern classic of young people's literature. It won both the National Book Award and the American Book Award and became a part of classroom studies throughout the country. It was later made into a musical play, "Abyssinia."
Ms. Thomas carried the story forward in two sequels, "Bright Shadow" (1983) and "Water Girl" (1986). ("Bright Shadow" won the American Library Association's Coretta Scott King Book Award for outstanding children's books by African American writers.)
In 2001, after publishing several other books for children, Ms. Thomas returned to the story of Abyssinia — by then a doctor known as Abby Jackson-Jefferson — in "House of Light," a novel directed more toward adults.
Although she had lived in California since she was 10, Ms. Thomas found a never-ending source of literary inspiration in the rural fields and small towns of her native Oklahoma. She sought to draw portraits of black life different from stories in modern urban settings or in the time of slavery.
"I know of black boys and girls who squirm uncomfortably in their desks at the two-dimensional, unrelenting portrayal of young people as either victims of slavery or perennial do-ragwearers hanging out on a stoop next to a garbage can," she told the African American Review in 1998. "There are black American stories somewhere between slavery and ghetto that also deserve telling."
Joyce Carol Haynes was born May 25, 1938, in Ponca City. She often missed school while working in the fields with her family.
"Every year when we went out to pick cotton in Red Rock, the women told stories at night to entertain us," she told the African American Review. "My mother, who was the lead teller, specialized in really scary stories … The interesting thing is that nobody told the same story twice. Nobody was allowed to."
In 1948, the family moved to Tracy, Calif., where Ms. Thomas again worked in the fields, picking tomatoes alongside Mexican-born farm laborers from whom she learned to speak Spanish. As a child, she seemed to have an innate awareness of racial injustice, her sister recalled, even in the subtle form of pink-skinned dolls.
"When she and I were children, every year we would get dolls for Christmas," Krasnovsky said. "She would give hers to me and say, 'They don't look like us.'"
Ms. Thomas worked as a telephone operator, married and began raising children before graduating from San Jose State University in 1966. She studied French and Spanish in graduate school at Stanford University, receiving a master's degree in 1968, her sister said.
For more than 20 years, Ms. Thomas taught in high schools, community colleges and universities, including San Jose State. From 1989 to 1995, she was an English professor at the University of Tennessee.
She published poetry and had several plays produced in the 1970s, but she did not have a major breakthrough until she began writing for younger readers. Among her more than 20 books, Ms. Thomas adapted stories by author Zora Neale Hurston for children and collaborated on several books with illustrators Floyd Cooper and Brenda Joysmith.
In 2003, Ms. Thomas edited and contributed to "Linda Brown, You Are Not Alone,"a book of essays for young people about the U.S. Supreme Court's 1954 Brown v. Board of Education decision, which declared segregated public schools unconstitutional.
Two of Ms. Thomas's collections of poetry for children, "Brown Honey in Broomwheat Tea"(1993) and "The Blacker the Berry,"published in 1997 and with different illustrations in 2008, received Coretta Scott King Awards. The title poem of the latter book contains these lines:
"Day couldn't dawn without the night," she wrote in the title poem of "The Blacker the Berry." "Colors, without black, couldn't sparkle quite so bright."
Ms. Thomas's marriages to Joe Harris, Gettis L. Withers and Roy T. Thomas Jr. ended in divorce. In addition to her sister, survivors include a daughter from her first marriage; two sons from her second marriage; a son from her third marriage; seven granddaughters; and two great-granddaughters.
When Ms. Thomas was 11 and her sister 10, they taught a California neighbor's children to read. The neighbor turned out to be a grand wizard in the Ku Klux Klan, Krasnovsky said, but the children got along with no trouble.
"People will do horrible things to other people, and there is no way to explain it away," Ms. Thomas told the Tulsa World in 2009. "So I write about these things as a kind of warning, to tell young people there is a darkness in the world … I know that life can be ugly, but it also can be beautiful."
***********************************************
GEORGE CURRY, A FIERCE JOURNALIST WHO NEVER BACKED DOWN FROM A FIGHT
To say he was a giant in journalism is an understatement.
They're taking George Curry back to Alabama for burial. I assume that's what he wanted. He died suddenly of a heart attack the other day in suburban Washington, D.C.
Alabama—where we were both born, that made us the butt of many jokes because we always regarded "Sweet Home Alabama" with mixed emotions, as do many other Bamas.
Alabama—with its "Heart of Dixie" motto we both loathed; its hard racism, harsh Jim Crow laws, snarling Gov. George Wallace; Birmingham's bullhorn-bearing Police Commissioner Bull Connor; the Ku Klux Klan; the list goes on—was difficult for African Americans. It is the state that stymied George and me and others in our ambitions, denying us quality education (but we got it anyway), a place we both fled to fulfill our dreams of becoming journalists.
Alabama—George and I detested its history but dearly appreciated our black communities; his in Tuscaloosa, mine in Montgomery—which comforted, nurtured, sustained and protected us in our youth, until we could escape its stifling clutches. Our Alabama backgrounds made us extremely sensitive to the ills of society.
George and I met and became fast friends in the 1970s when we were reporters—he at the St. Louis Post-Dispatch, I with the New York Times, based in Chicago. We both had a strong passion for the profession, as well as for the national black community and covering its issues. We were among the optimists who held out hope in those days as we fought to integrate the newsrooms of daily newspapers and television and radio stations.
When I became the first black editor at the Times in 1977, I was surprised by the reaction and excitement among black journalists across the country, especially in the Midwest and East, where most of us worked. They celebrated my promotion as a sign of hope that doors would swing open for them; if the mighty New York Times did it, their companies surely would follow.
Black colleagues in Kansas City—Lewis Duiguid, Jeanne Fox, Gerald Jordan, et al.; and in St. Louis—Bob Joiner, Ken Cooper, Sheila Rule, Gerald Boyd, Ellen Sweets, Linda Lockhart and George, among others—threw parties and dinners for me. From the beginning, George was one of my most ardent supporters and toughest competitors. We were both active in different worlds—big-city, mainstream media versus education and the black press.
George and his colleagues founded the Greater St. Louis Association of Black Journalists and a workshop to train aspiring high school journalists in conjunction with the University of Missouri School of Journalism. Those efforts predated formation of the National Association of Black Journalists, as did local associations in a few other cities, including Chicago, San Francisco, Philadelphia, New York and Washington, D.C.
The death of George Curry last Friday shook the media world. I am still shaking. To say he was a giant is an understatement. He was a trench fighter who savored the combat. We engaged in many disagreements, as he did with other friends and colleagues. But with a grin, quirky laugh and handshake, there was never any bitterness. Mere friendly, if serious, disagreement. And he was a pure, true journalist: fair, courageous and honest.
As if a prelude to his own death, he discussed his concern about the deteriorating relations within his large family earlier this month in an article for the Baltimore Afro under the headline, "Even Funerals Are Not Family Reunions Anymore." He told of serious divides within his family and joked that "funerals have become our family reunions." He vowed that, "As long as I have breath in me, I am going to try and get my family back together."
****************************************************
SONIA RYKIEL: THE PIONEERING KNITWEAR DESIGNER WHO COULDN'T KNIT
Sonia Rykiel, who died yesterday aged 86, liberated women with her provocative designs, modern approach to colour and sense of humour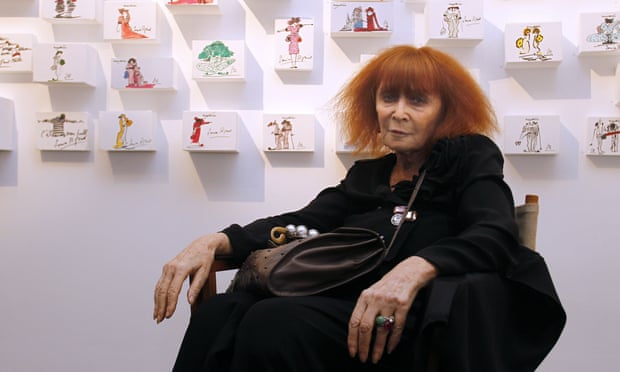 Sonia Rykiel, who died yesterday at the age of 86, defined the whole idea of French chic in all its sexy, sassy, nonchalant, slightly arrogant glory. In many ways she took up where Coco Chanel left off, giving women permission to be gamine, boyish and free. It is no coincidence that her first shop at the epicentre of Paris's lefty, arty bohemian scene on Rue de Grenelle in St Germain, opened in May 1968, the same year the students were storming the barricades.
Hers was an altogether new attitude for a designer, one she shared with Mary Quant in London, who had been busy making hot pants and mini skirts during the same period, designed so that women weren't restricted by their clothes. "1968 was the beginning of the hippie movement in fashion," she told W magazine in 1997. "That movement made fashion change completely. It was not necessary to be always dressed up. You could be dressed the way you wanted – it was absolute freedom."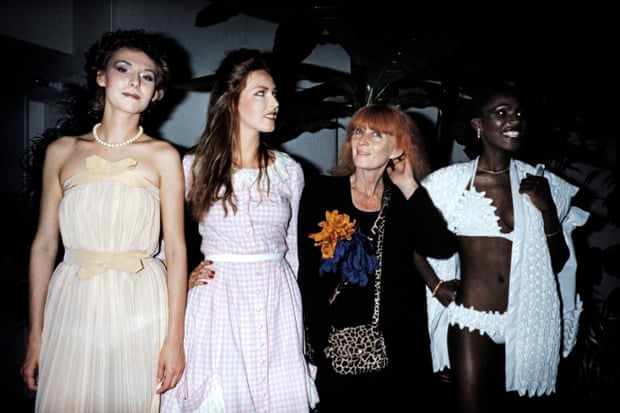 For Rykiel, femininity was about being at one with your sexuality, but not defined by it. Her knitwear moved with the body, not against it. Her trademark stripes – often with disco Lurex knitted into them – were sporty and fun. She never took clothes too seriously; rather, they were there to service a woman's life. Her knitwear was never encumbered with padded shoulders, she made folky quilted jackets long before Isabel Marant, and she liked to (literally) turn clothes inside out and expose the seams. She was also the first designer to make clothes for a mass-market mail order company – Les 3 Suisses in France – and the company went on to collaborate with La Redoute in 1995 and H&M in 2009. In many ways, she was one of the first to recognise that fashion designers needed to climb down from their ivory towers and offer affordability in fashion.
When the company also started selling lingerie, erotica and sex toys on Rue de Grenelle in 2002, Rykiel's daugher, Nathalie said: "My mother strove to liberate women. [Forty] years ago, she told them to ditch their bras under her little poor-boy sweaters. She told them to embrace liberty. Now we are being provocative in another way." It didn't translate quite so well when it crossed the channel. English women were still not quite so liberal and unfettered as their French sisters.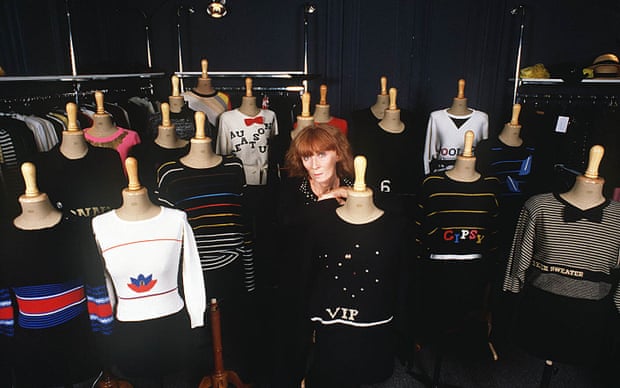 It was, of course, quintessentially French. The first garment she made was a maternity dress for herself: a sweater dress (although she didn't actually knit) that showed off her pregnancy in all its glory. She revelled in the female body and wanted to accentuate its curves – not to make women feel self-conscious but so they could say: "This is who I am. Aren't I sexy and powerful!" Unlike the harder sexual appeal of a Saint Laurent sheer blouse with a tuxedo suit, Rykiel's sexuality came from a woman's perspective. These were clothes to make women feel sensual and natural. The true French woman would wear a Rykiel skinny rib jumper without a bra. It would be like a second skin.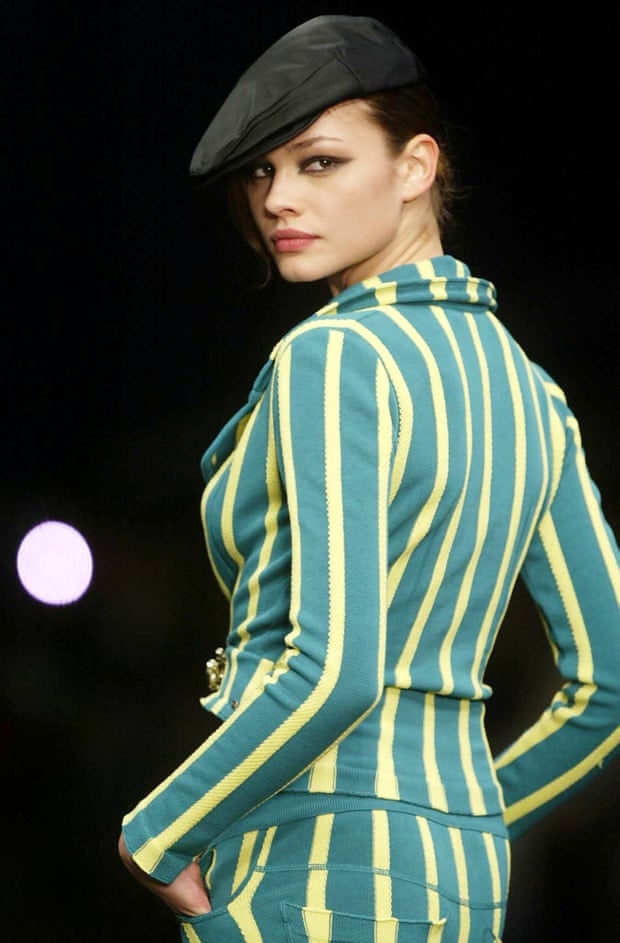 In 1971, Rykiel launched her first slogan sweater with the word "SENSUOUS" emblazoned across it. It summed up her attitude perfectly – as well as that of her loyal followers who had found a kindred spirit in this bohemian French woman with her cloud of red hair and her smoky grey eyes.
**************************************************
STEVEN HILL, 'LAW & ORDER'S' D.A. ADAM SCHIFF
Carmel Dagan, Staff Writer
August , 2016
Courtesy of CBS
August 23, 2016 | 09:33AM PT
Steven Hill, who starred for years as District Attorney Adam Schiff on "Law & Order" and decades earlier played the leader of the Impossible Missions Force before Peter Graves on TV's "Mission: Impossible," died Tuesday in Monsey, N.Y., his daughter Sarah Gobioff told The New York Times.
He was also a top character actor in films of the 1980s and early '90s including "Rich and Famous," "Yentl," "Garbo Talks" and Arnold Schwarzenegger vehicle "Raw Deal"; "Legal Eagles," in which he would, as in "Law & Order" a few years later, play the New York district attorney; "Heartburn"; "Brighton Beach Memoirs"; "Running on Empty"; "White Palace"; "Billy Bathgate"; and "The Firm."
Hill played Schiff from the show's first season in 1990 until 2000, when Hill resigned; within the show Schiff was said to have accepted a position coordinating commemorations of the Holocaust Project and goes on to work with Simon Wiesenthal. Replacing Schiff as D.A. was Dianne Wiest's Nora Lewin.
The Schiff character was reportedly based in part on the former real-life, long-serving New York D.A., Robert Morgenthau. Schiff was formerly quite liberal in his youth, mostly replaced now with a political pragmatism that sees him fear angering one political constituency or another and thus frequently suggesting a plea bargain to appease all sides.
While Hill was often said to be the last remaining member of the original cast of "Law & Order" to leave the show, this was not quite true by a technicality, as another actor, Roy Thinnes, had played the D.A. in the very first episode of the series; Hill's Schiff came on in episode two.
Hill was twice nominated for Emmys for playing Adam Schiff on "Law & Order," in 1998 and 1999.
"Steven was not only one of the truly great actors of his generation, he was one of the most intelligent people I have ever met," "Law & Order" creator and executive producer Dick Wolf said. "He is also the only actor I've known who consistently tried to cut his own lines. He will be missed but fortunately he can be seen ubiquitously on 'Law & Order' reruns."
In a 1996 profile of the actor, the New York Times said: "Legal vagaries aside, Mr. Hill is a law-and-order man. 'There's a certain positive statement in this show,' he says (of 'Law & Order'). 'So much is negative today. The positive must be stated to rescue us form pandemonium. To me it lies in that principle: law and order.' Personally, Mr. Hill says, he is no plea bargainer. 'But our stories are about real life, and that's how life is today,' he says. 'We plea bargain all over the place.'"
On the first season of "Mission: Impossible" in 1966, Hill played Dan Briggs, who initially led the IMF force; while most viewers remember fondly the tape that plays at the onset of each episode and begins by saying "Good Morning Mr. Phelps" — the character later played by Peter Graves — and details the assignment that must be accomplished, the device was used from the beginning of the series, only the recording said, "Good morning, Mr. Briggs."
Steven Hill was an Orthodox Jew whose faith required that he depart the set on Friday by 4 p.m. in order to ensure that he make it home by sundown and the onset of the Sabbath; he was unavailable until the end of the Sabbath at sundown on Saturdays. The producers of "Mission: Impossible" were fully aware of these requirements, which were explicitly spelled out in the actor's contract, but the pause in the production schedule each week proved unworkable in practice, generating increasing resentment on both sides. Thus, as the first season progressed, the producers simply utilized Hill less and less. This conflict over religious observance was not the only source of tension. After the actor climbed through dirt tunnels and climbed rope ladders for the episode "Snowball in Hell," Hill balked at performing similar duties in the next episode, and the producers shot around him. Briggs' presence in the five remaining episodes of the season was kept to a minimum. Line producer Joseph Gantman later told Patrick J. White, author of the 1991 book "The Complete 'Mission: Impossible' Dossier," that he simply had not understood what had been agreed to with regard to Hill's religious requirements: "If someone understands your problems and says he understands them, you feel better about it. But if he doesn't care about your problems, then you begin to really resent him. Steven Hill may have felt exactly the same way."
Without any explanation within the storyline of the series, Hill's Dan Briggs was replaced by Peter Graves' Jim Phelps at the beginning of the second season.
Since Adam Schiff had only a couple of scenes in most episodes of "Law & Order," hewing to Hill's religious requirements did not pose much of a logistical problem in that series.
Nevertheless in the wake of the conflict that arose over his role on "Mission: Impossible," Hill left acting from 1967 until 1978. He moved to a Jewish community in Rockland County, New York, writing and working in real estate.
In 1986, at a time when his career was revitalized, Hill told the New York Times: "I don't think an actor should act every single day. I don't think it's good for the so-called creative process. You must have periods when you leave the land fallow, let it revitalize itself." A decade later, in a profile in the Times, he painted a far less cheerful picture of his past: "'What we have here is a story of profound instability and impermanence,' he says of his own career."
In 1978 he ended the 11-year drought with a role in NBC's Martin Luther King Jr. miniseries "King," in which Hill played Stanley Levison, a close friend of King's who was a leader of the Communist Party.
He returned to features with supporting roles in Claudia Weill's "It's My Turn" (1980), starring Jill Clayburgh and Michael Douglas; Peter Yates' "Eyewitness" (1981), starring William Hurt, Sigourney Weaver, Christopher Plummer and James Woods; George Cukor's "Rich and Famous" (1981), starring Jacqueline Bisset and Candice Bergen; Barbra Streisand's "Yentl" (1983), in which he played the rabbi; Arthur Hiller's "Teachers" (1984); "Garbo Talks," in which he played the estranged husband of Anne Bancroft's character; 1986 Arnold Schwarzenegger vehicle "Raw Deal," in which he played a Mafia boss for laughs; Ivan Reitman's 1986 "Legal Eagles," starring Robert Redford; Mike Nichols' "Heartburn" (1986), in which he played the father-in-law of Meryl Streep's character; and "Brighton Beach Memoirs" (also 1986).
In 1986 family drama "On Valentine's Day," written by Hill's friend Horton Foote, the actor played "an anguished, deranged man living in a small town in Texas in the early years of the century," in the words of the New York Times.
In Sidney Lumet's "Running on Empty" (1988), Hill got lucky: — playing the father of a longtime fugitive portrayed by Christine Lahti, he was in the film's key scene. Roger Ebert said: "Questioning the very foundations on which they have built their lives… leads to the movie's emotional high point, when the Lahti character calls up her father (Steven Hill) and arranges to meet him for lunch. Long ago, she broke his heart. She disappeared from his life for years. Now she wants her parents to take Danny, so that he can go to music school. She will lose her son, just as her father lost her. It's ironic, and it's very sad, and by the end of the scene we have been through a wringer."
In its review of 1990's "White Palace," starring Susan Sarandon and James Spader as unlikely lovers, the New York Times said: "Steven Hill, once again pressed into service to play an all-purpose patriarch, this time presides over a large Thanksgiving dinner in a prosperous household and makes a speech about the needs of the working class, which presents (Sarandon's) Nora with her only opportunity for a memorable line. 'Mister,' she says, 'I am the working class.' "
In Robert Benton's 1991 E.L. Doctorow adaptation "Billy Bathgate," Hill memorably played a loyal henchman to Dustin Hoffman's mobster Dutch Schultz, while in Sydney Pollack's adaptation of John Grisham's "The Firm," he played FBI Director F. Denton Voyles.
Presumably supporting roles allowed both Hill and his respective directors the logistical freedom to work around his Sabbath schedule.
After a 1995 TV movie, Hill did not earn a screen credit for five years, until "Law & Order" came along.
Solomon Krakovsky was born in Seattle, Washington, to Russian Jewish immigrants, but was interested in theater even while young. He served in the Navy Reserve from 1940-44.
He was a founding member of Lee Strasberg's Actors Studio, joining Marlon Brando, Montgomery Clift and Julie Harris among the 50 successful applicants (out of some 700 interviewed) to be accepted, and made his Broadway debut in 1946 in the Ben Hecht play "A Flag Is Born," which counted Marlon Brando among its stars and advocated for the creation of a homeland for the Jewish people in the ancient land of Israel; a few years later he was in the original cast of the enormously successful "Mister Roberts," starring Henry Fonda, with Hill playing Stefanowski. Also in 1948 he appeared in "Sundown," staged by Elia Kazan; in 1950 he appeared in Ibsen's "The Lady From the Sea." Hill was also in the original cast of Clifford Odets' "The Country Girl."
Hill started on television early in the history of the medium, appearing in several segments of the "Actors Studio" episodic anthology series in 1949. He soon appeared on other anthology series, such as "The Magnavox Theatre," "Schlitz Playhouse," "Lux Video Theatre," "Goodyear Playhouse," "Studio One in Hollywood" and "Playhouse 90."
Hill received the Sylvania Television Award for dramatic actor of the year in 1954.
A bit later he appeared on "Alfred Hitchcock Presents," "The Untouchables" and "Dr. Kildare."
The actor made his movie debut in the 1950 film noir "A Lady Without Passport," starring Hedy Lamarr and John Hodiak, and appeared in film noir "Storm Fear," directed by Cornel Wilde and written by Horton Foote; John Cromwell's "The Actress" (1958), starring Kim Stanley; and "Kiss Her Goodbye" (1959) with Elaine Stritch.
In 1960 he starred in the CBS TV movie "Dillinger" as Melvin Purvis.
Everything changed with Hill's 1961 starring role on Broadway as the older Sigmund Freud in the Henry Denker play "A Far Country."
Appearing in the play — in which a patient screams at Freud, "You are a Jew!" — profoundly affected Hill. "In the pause that followed I would think, 'What about this?' I slowly became aware that there was something more profound going on in the world than just plays and movies and TV shows. I was provoked to explore my religion," he told John Sobiski for the online essay "Steven Hill: Hollywood's Most Talented Curmudgeon."
A rabbi inspired him to adhere to strict Orthodox Judaism, which included observing the Sabbath without fail. This stricture effectively ended the actor's stage career, as he would be unavailable for Friday night or Saturday matinee performances, and also made most potential film roles unlikely or impossible, most notably "The Sand Pebbles," according to Sobiski.
There were some film roles in the years after Hill became observant, including John Cassavetes' 1963 "A Child Is Waiting," in which he starred with Burt Lancaster, Judy Garland and Gena Rowlands, and 1965's Sydney Pollack-directed "The Slender Thread," starring Sidney Poitier and Anne Bancroft.
Hill was twice married, the first time to Selma Stern, to whom he was married from 1951 until their divorce in 1964.
He is survived by his second wife, Rachel, whom he married in 1967; five children by her; and four by Stern.
~~~~~~~~~~~~~~~~~~~~~~~~~~~~~~~~~~~~~
NOT FORGOTTEN
Not Forgotten: Aaliyah, Whose Soaring Career Was Cut Short by a Tragedy
Aaliyah performing on "The Tonight Show with Jay Leno" in 2001. Credit Kevin Winter/Getty Images
The princess of R&B released her first album at 15 and helped pioneer a new sound with chart-topping hits before her death at 22.
She was the princess of R&B, a Grammy-nominated singer and actress whose glassy vocals against synthetic soundscapes pioneered a new genre. But she was also a girl next door, a teenager with her own street style who rose above the vulgarity of other stars.
Aaliyah Dana Haughton died 15 years ago along with eight other passengers of a small airplane that crashed in the Bahamas. She was 22, but she had already reached a level of fame few could achieve in a lifetime.
Born in Brooklyn and raised in Detroit, Aaliyah was raised for stardom. At 11, she sang on stage with Gladys Knight. True to its title, her debut album, "Age Ain't Nothing but a Number," was released when she was 15. It was produced by the R&B giant R. Kelly and included chart toppers like "Back and Forth" and "At Your Best (You Are Love)." It went platinum, selling more than a million copies. In one of her more gossip-provoking moments, it was widely reported that she had secretly married R. Kelly, who was in his late 20s. Their marriage was annulled.
At the beginning of her senior year of high school in 1996, she released her second album, "One in a Million," with help from the star producer-songwriter duo Timbaland and Missy Elliot. Timbaland's trademark fusion of hip-hop and electronic music featured twitchy, complex syncopated beats and start-stop rhythms that complemented Aaliyah's precocious, sultry voice. That album sold two million copies.
The collaboration with Timbaland took her to new heights in 1998 with "Are You That Somebody," recorded for the "Dr. Dolittle" soundtrack. The song, which the critic Simon Reynolds called "the most radical pop single" of the year, earned Aaliyah the first of her five Grammy Award nominations.
In The Times, Kelefa Sanneh wrote, "Where most divas insist on being the center of the song, she knew how to disappear into the music, how to match her voice to the bass line — it was sometimes difficult to tell one from the other."
Aaliyah's acting career took off in 2000 with a lead part in "Romeo Must Die." Her hit single on the soundtrack, "Try Again," earned her another Grammy nomination. She also had a title role in the film "Queen of the Damned," which was released after her death.
Aaliyah died on her way back to Miami from Abaco Island, where she had finished working on the video for her latest album's third single, "Rock the Boat," directed by Hype Williams.
Read the obituary "Aaliyah, 22, Singer Who First Hit the Charts at 15"
Read the review "A Pioneer, Briefly, Of a New Sound"
CreditHulton Archive/Getty Images
Not Forgotten: Friedrich Nietzsche, a Renegade Philosopher Whose Ideas Endured
Emmett Till, Whose Martyrdom Launched the Civil Rights Movement
August 28, 2016 10:35 AM ET
A family photo shows Emmett Till in Chicago, about six months before he was killed in August 1955 while visiting relatives in Mississippi.
Emmett Louis Till was born on July 25, 1941, on Chicago's South Side and was nicknamed Bobo because of his fun-loving, cheerful disposition while growing up in the segregated middle-class neighborhood. When he was 14 he went to Mississippi to spend the summer with his cousins, and his mother gave him his father's signet ring as a gift.
On Aug. 24, 1955, after an exhausting day of picking cotton in the scorching Delta sun, Till and his cousins went to a local store run by a poor white couple in their 20s, Roy and Carolyn Bryant. Ms. Bryant was working alone in the store when Till went in to buy bubblegum. It is not clear what happened inside, but soon afterward Ms. Bryant stormed out, presumably to get a pistol from her car parked outside. Till, unaware of the danger, whistled, and his cousins, now panicked, quickly drove him away.
Ms. Bryant later claimed that Till had flirted with her on a dare. The details would later change depending on when she told the story.
Four days later, around 2:30 a.m., Ms. Bryant's husband, Roy, and his half brother J. W. Milam pounded on the door of the Wright family home where Till was staying with a pistol. Bryant announced that they were "looking for the boy that did the talking." Forcing their way in, according to a PBS documentary about Till, they roused Till from sleep, marched him to their car and sped away.
Till's disfigured body was found three days later, "the most celebrated race-sex case since Scottsboro was born," the journalist William Bradford Huie wrote in Look magazine. His body was so mutilated that it could be identified only by the silver signet ring, still on his finger.
"Someone is going to pay for this," Till's mother wailed, according to an American National Biography web page about her. She demanded that her son's body be returned to Chicago for an open-coffin funeral. "I wanted the world to see," she said.
Till's body, unembalmed, was displayed publicly for four days. People left in tears. Some fainted.
The murder became a rallying point for the nascent civil rights movement. The Rev. Jesse Jackson called it the movement's "Big Bang."
"More than 100,000 people saw his body lying in that casket," he told The New York Times in 2003.
The Bryant brothers were found not guilty. After the acquittal, they kissed their wives, lit cigars and posed for pictures. And later, protected from double jeopardy, they boasted about how they had murdered Till.
Till's mother, Mamie Till Mobley, turned to the federal government to no avail. She tried to meet with President Dwight D. Eisenhower, but he refused. J. Edgar Hoover, the director of the F.B.I. at the time, declined to make the killing a federal case.
"There has been no allegation made," he said, "that the victim Emmett Till has been subjected to the deprivation of any right or privilege which is secured and protected by the Constitution and the laws of the United States."
The Till case became emblematic of a history of violence toward African-Americans and of the country's legacy of white supremacy. It provoked international outrage and pressure on political leaders in the United States. Young black Americans grasped the precariousness of their own lives, and figures like the Rev. Dr. Martin Luther King Jr., Medgar Evers and many others were galvanized to press the fight on the front lines. Ms. Till Mobley became a teacher and civil rights activist herself, as did many whites.
As Mr. Jackson said, "Emmett's murder broke the emotional chains of Jim Crow."
Read the article "Mississippi Jury Acquits 2 Accused in Youth's Killing"
Read the article "Racial Issues Stirred by Mississippi Killing"